A Modern Artisan: THE.ALL Space
Hairdressing
Salon Spaces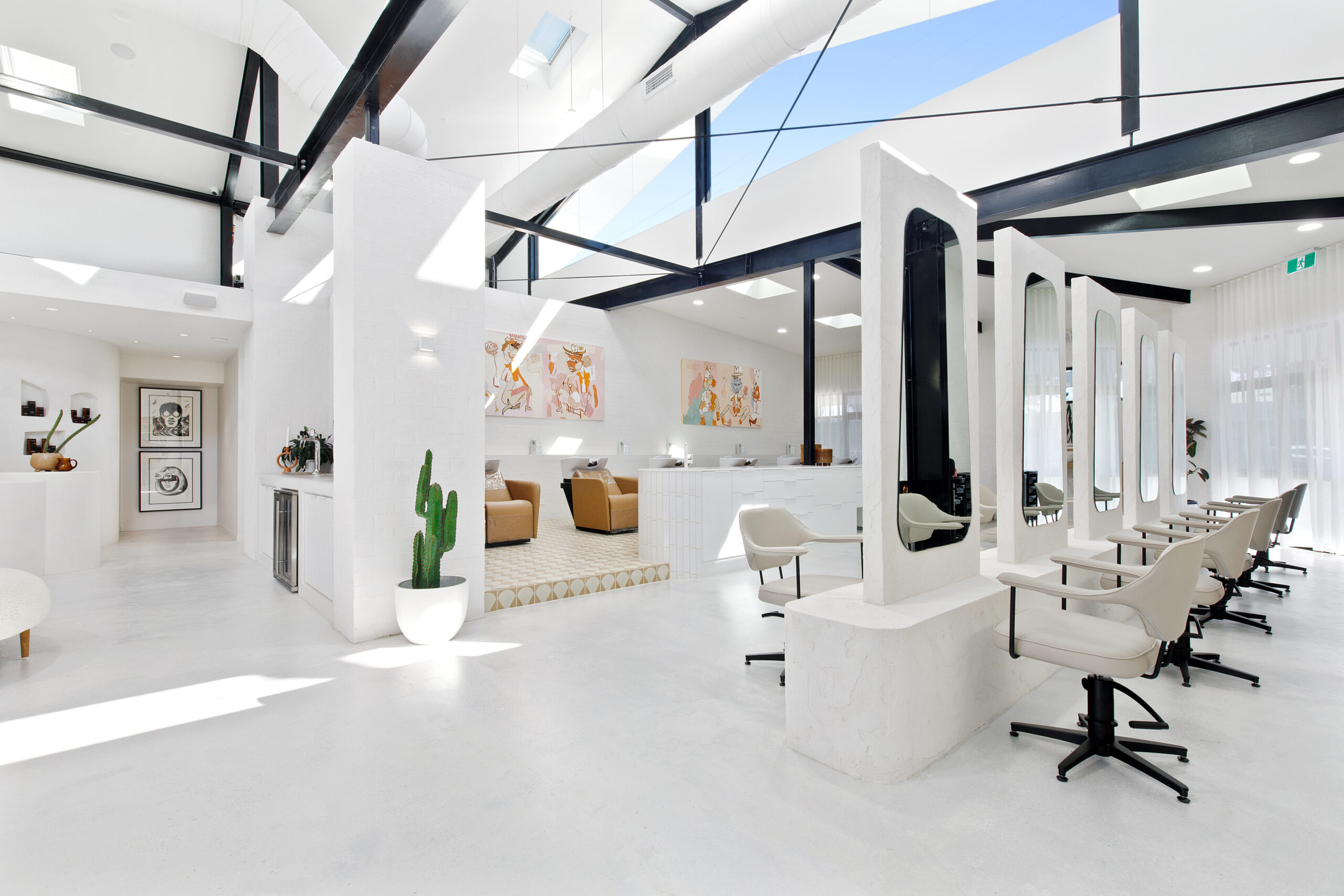 Artisan Inspired. With a hint of 70's influence.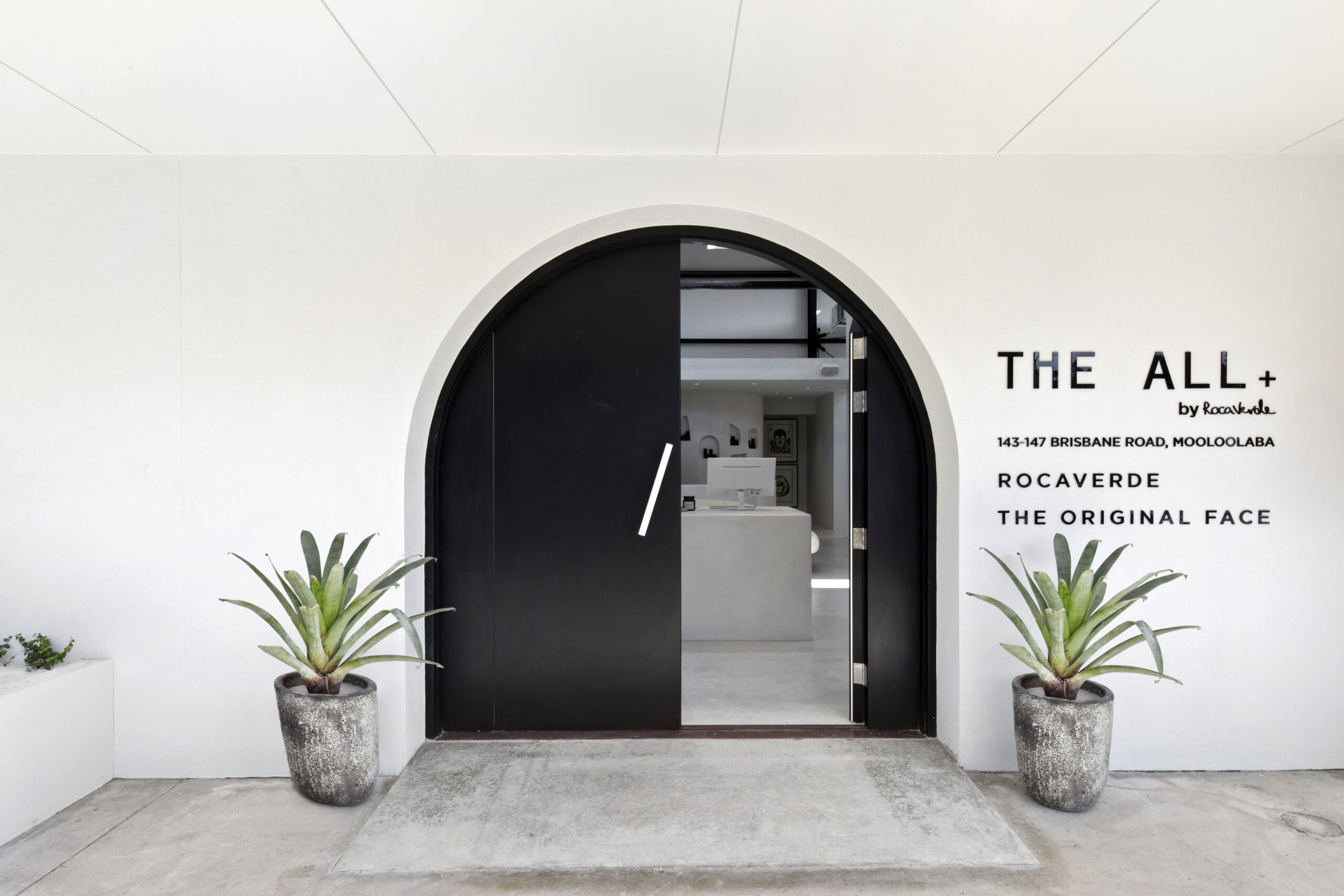 Take a step inside this artisan inspired salon space in Mooloolaba on the Sunshine Coast and  you'll understand why it's named, The All Space. 
The space, open, light, and large has been designed to incorporate everything from Hair, Beauty, as well as Education. Heck, I would have my next birthday party there.
The first thing you'll notice is light pouring in from everywhere, bouncing up and around the soft white space – thanks to 26 beautiful custom skylights. Looking up, you'll notice bold framing accentuating its height. Around you is a haven of natural textures, layered to perfection atop of a cool minimal palette.
Entering The All Space salon is like entering a luxurious New York Loft, perfect for pampering all your hair, brow, skin and beauty needs.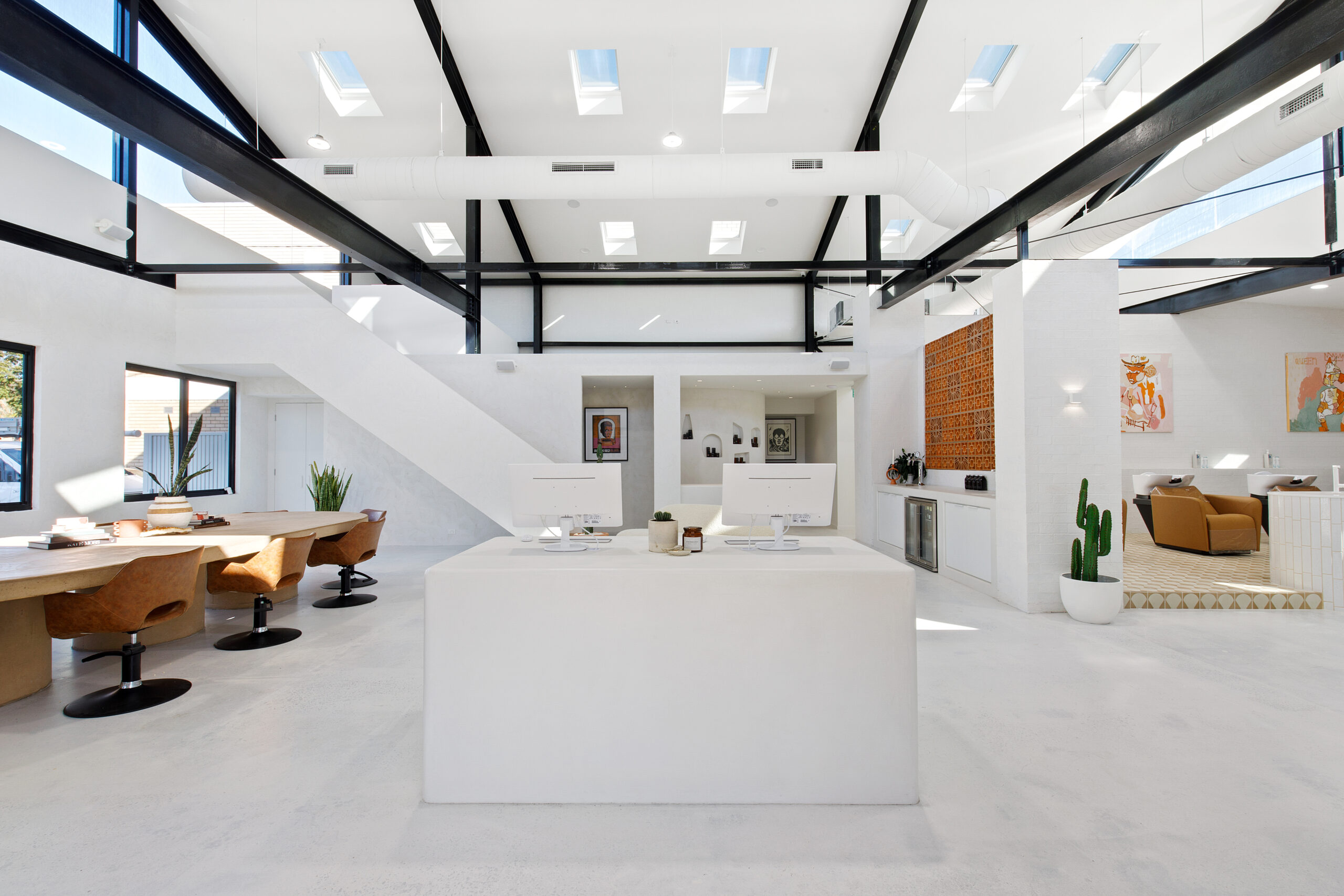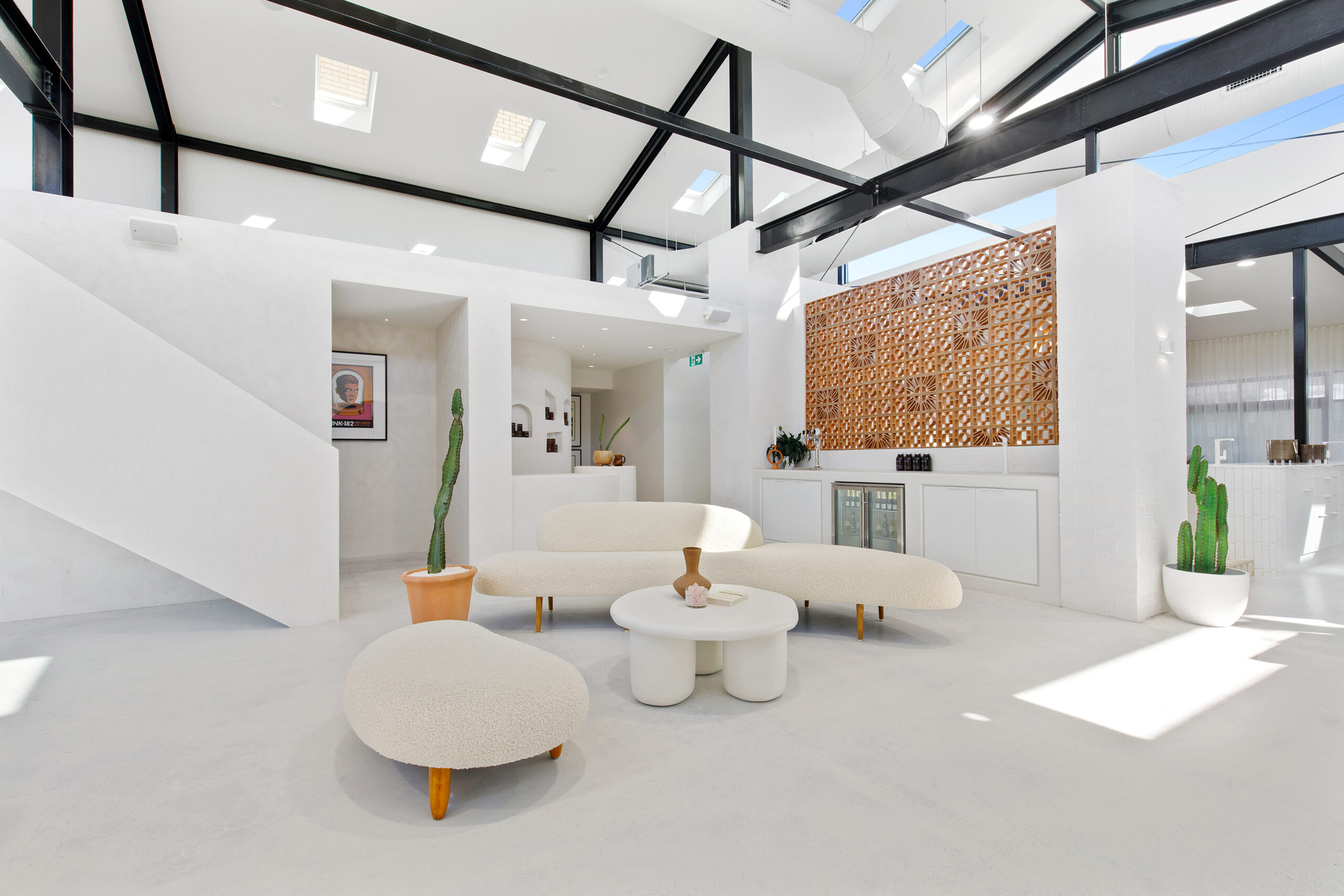 Salon owner Sara Briscoe started Roca Verde in 2007. 14 years and 3 expansions later, The All Space was born – a team of 16 that shares their space with other artists, including cosmetic business the original face (@theoriginalface_) owned by Ange Ryan.
Furniture and Design Features
The gorgeous salon space infuses Industrial luxe with hints of 70s design – pops of terracotta are scattered throughout the space, in the artwork, plants, and feature walls. The place has a contemporary style, with uniquely shaped furniture, custom stone fixtures, textured walls and abstract cut out shelving's. Everything is placed with care and purpose, drawing your eye to textural details with the overall feel; cool and minimal.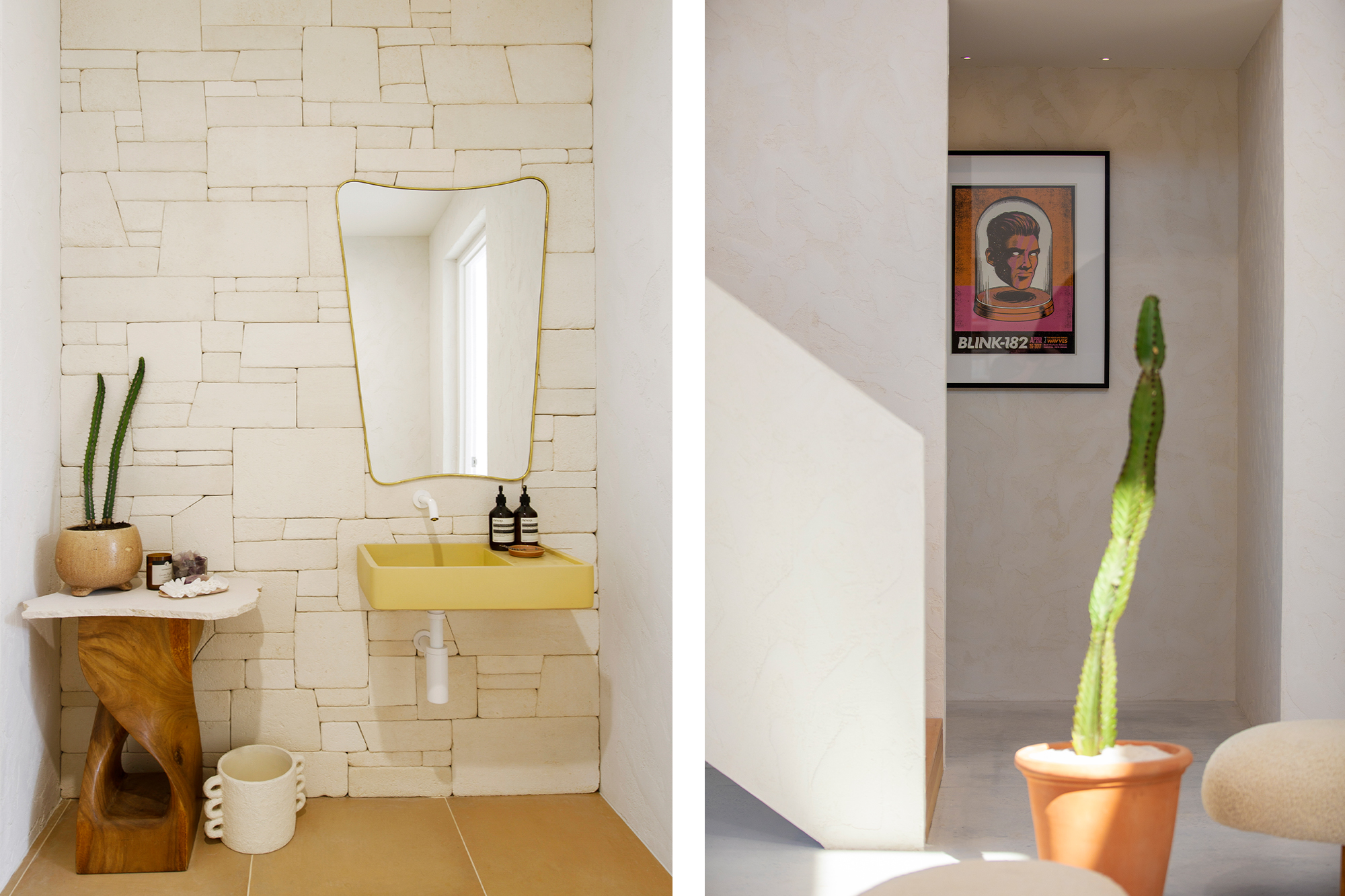 Seamlessly blending a cool grey palette are Comfortel's Aria Styling Chair in Stone at the styling stations. Not sticking to the traditional form of everything matching, Comfortel's Chloe Tan salon chair sit around the large oval table used for colour and education, adding warmth to the space. Choosing Comfortel for salon furniture, owner Sara writes "We always have a fab time working with Comfortel. We can go beyond the norm and play with colours from their extensive range.  Black can be boring, combining colour adds that personal touch we need to truly make our salon unique and meet our design style"
Sara worked with professionals Danielle Murray from Design by Danni (@designbydanni) and Dan of Briscoe Homes (@briscoehoems) to create this truly one of a kind space.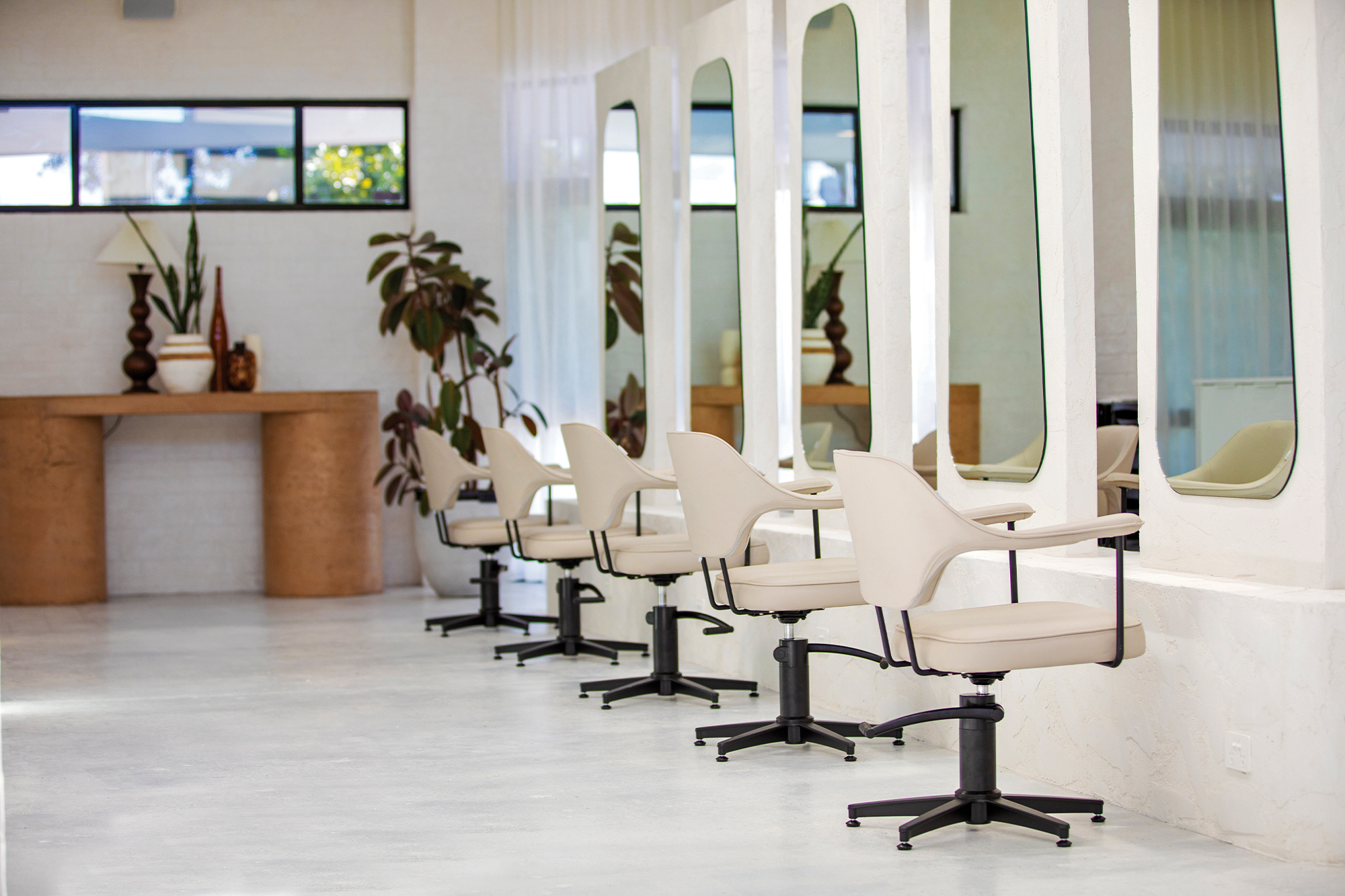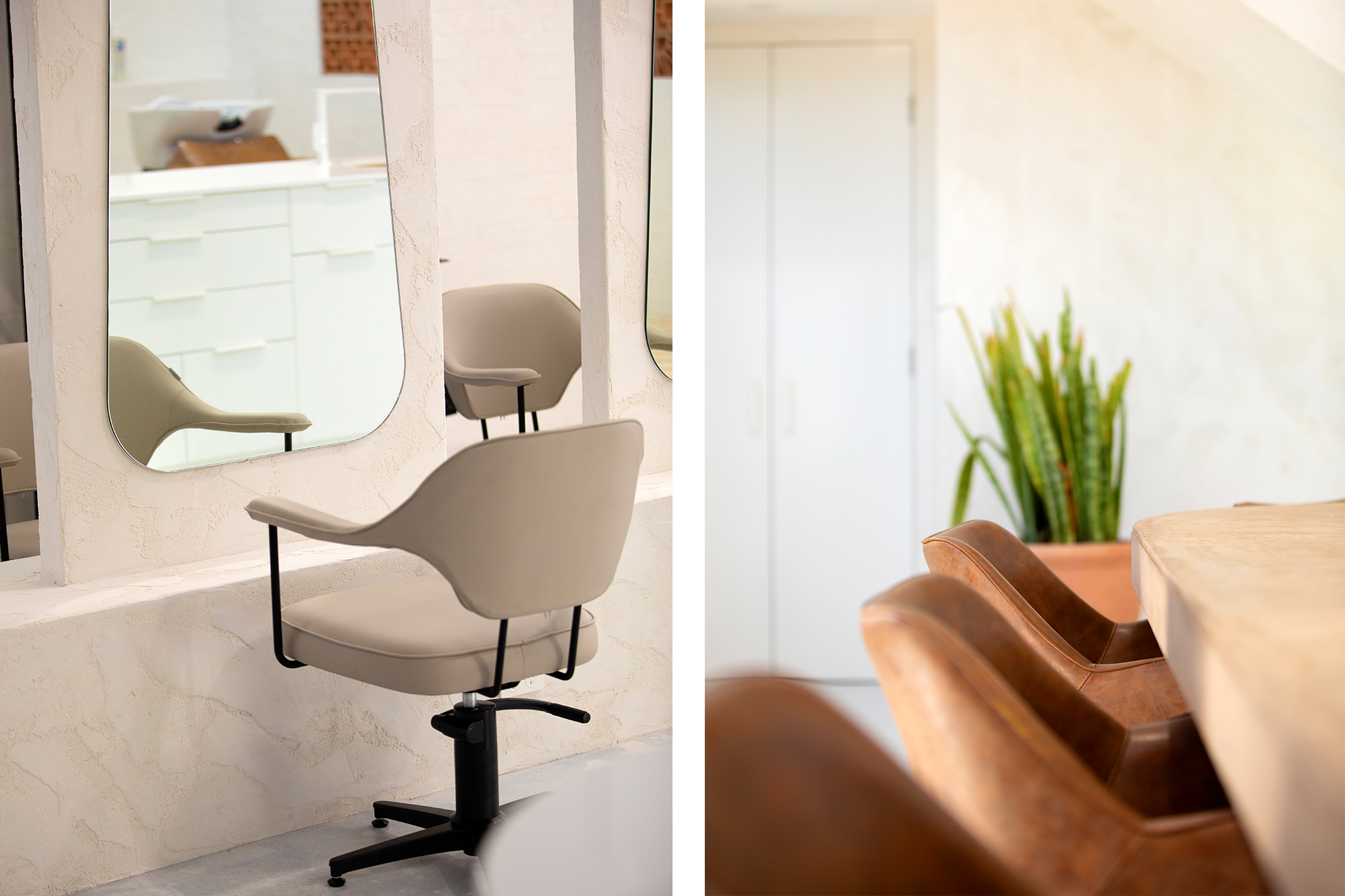 Here's how to get the look in your salon interior design:
Keep the colour palette neutral – whites, greys, ivory and slates are the perfect base.

Create diversity by layering different textures throughout the furniture with textured look upholstery, furs, concrete, stone and shine.

If you've got a space with high ceilings – use them! Bold framing on a light colour pallet draws the attention upward, and high windows filter in heaps of light to the space.

Add colour and warmth with design elements such as artwork, cushions and uniquely shaped furniture. Here you can be super creative to infuse your personal salon style into the space.

Custom pieces are always a good choice for eye catching statements within the space. Whether it's Decor, a feature wall, the reception desk or a coffee/drinks area, this will make something truly unique to the space.

Finally, finishing off with decor of the textural feel (think ceramics) and plants or greenery to add a calming feel to the space.
Get the look with Comfortel Salon Furniture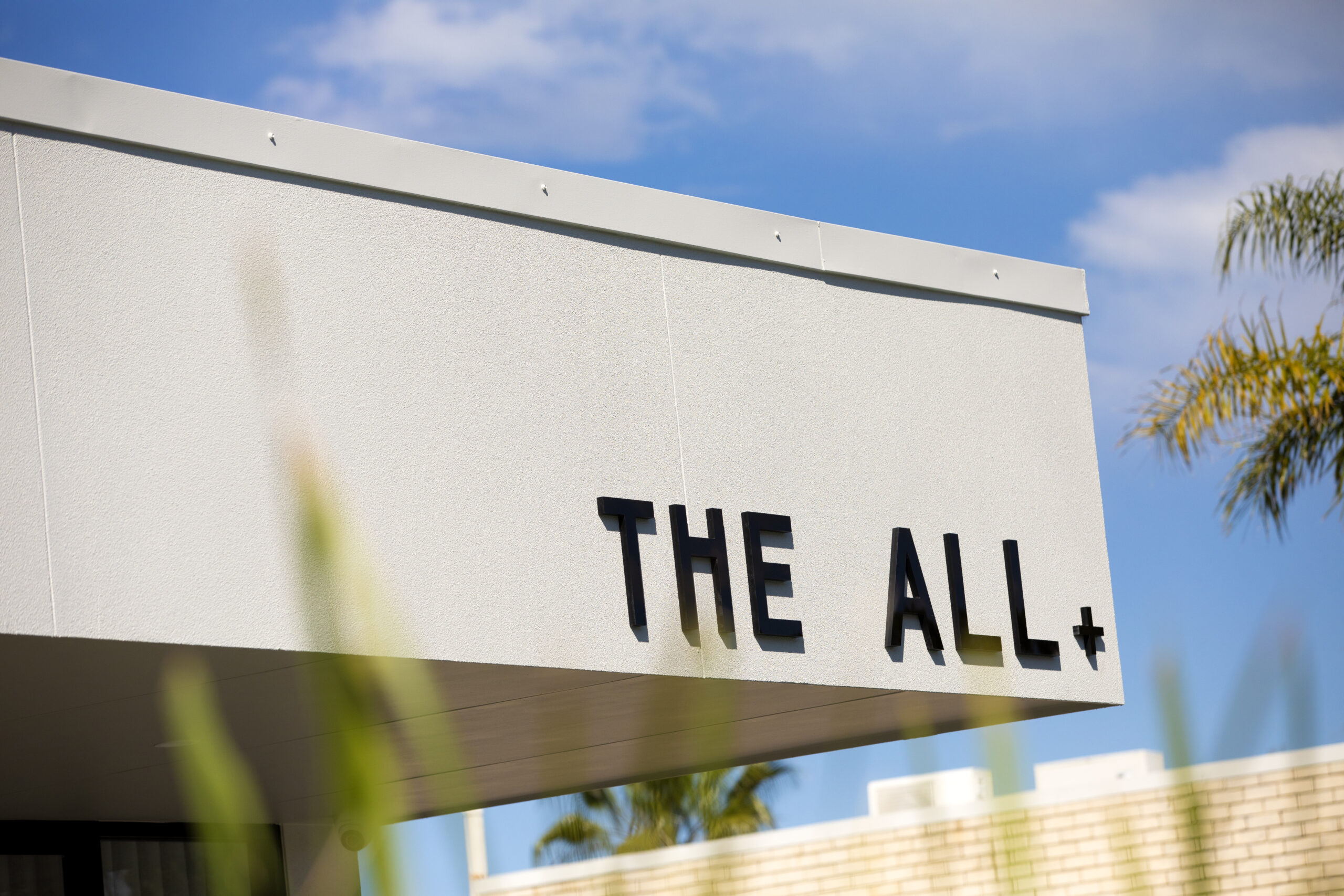 Salon: THE.ALL Space by Roca Verde @the.all.space
Salon Owner: Sara Briscoe @rocaverde
Builder: Dan Briscoe @briscoeholmes
Interior Designer: Danielle Murray @designbydanni
Salon Furniture: Comfortel Furniture @comfortelfurniture
Photographer:  Cade Media @cademedia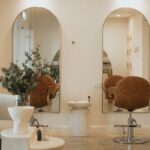 Hairdressing
Salon Spaces