Toscani & Blow Bar. Hair Salon meets Cocktail Bar.
Hairdressing
Salon Spaces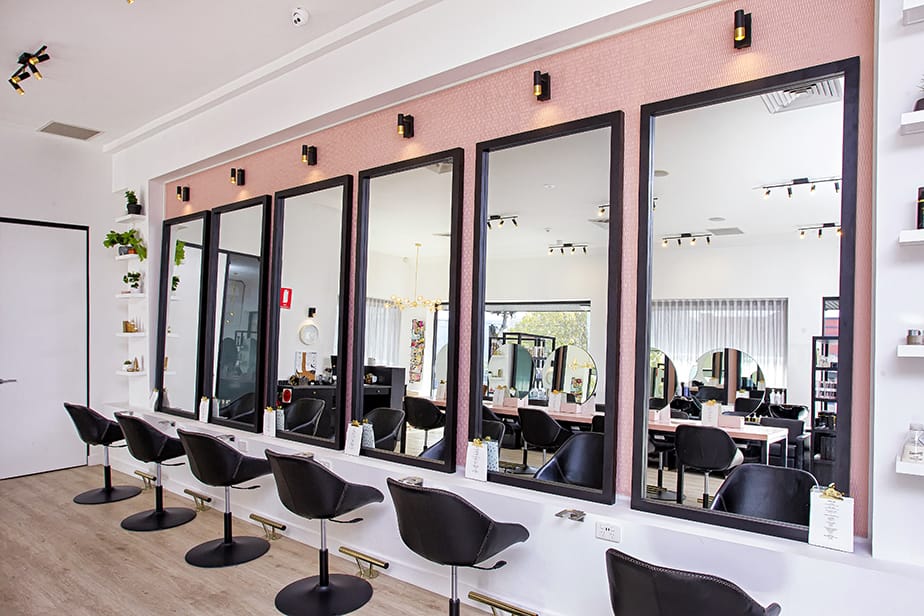 Two words; Blow Bar. The design of this new salon space is the first ever Blow Bar in Wollongong, NSW. The concept stemming from New York City marries both the world of hairdressing and cocktail bar.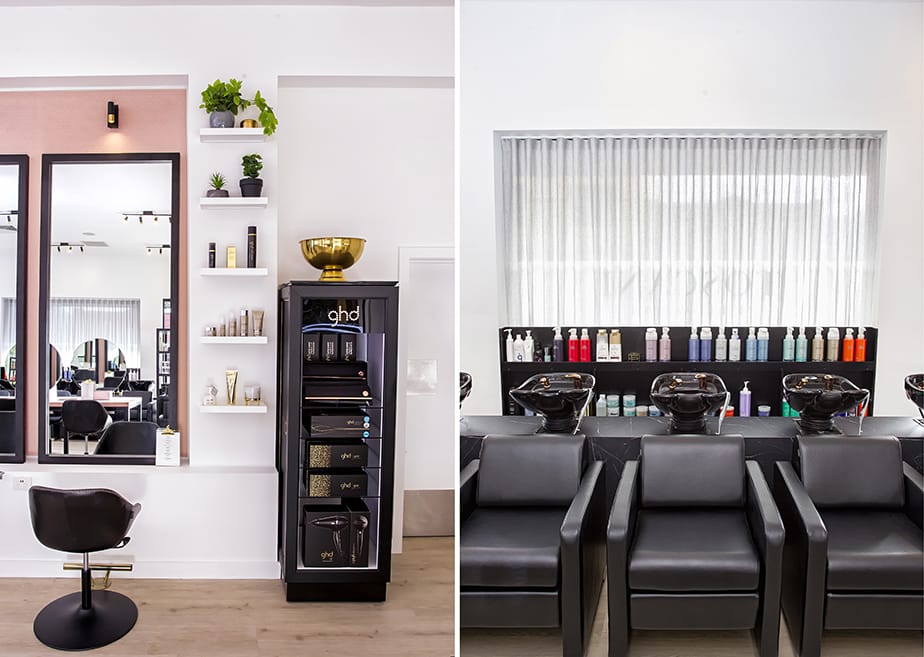 Our owner,Dannielle Dickinson, having been in business for over 20 years, recently purchased a new shopfront which was to be converted into a Hair salon & cocktail bar (Blow Bar). The key selling point is to be able to sit at the bar while you get your hair styled.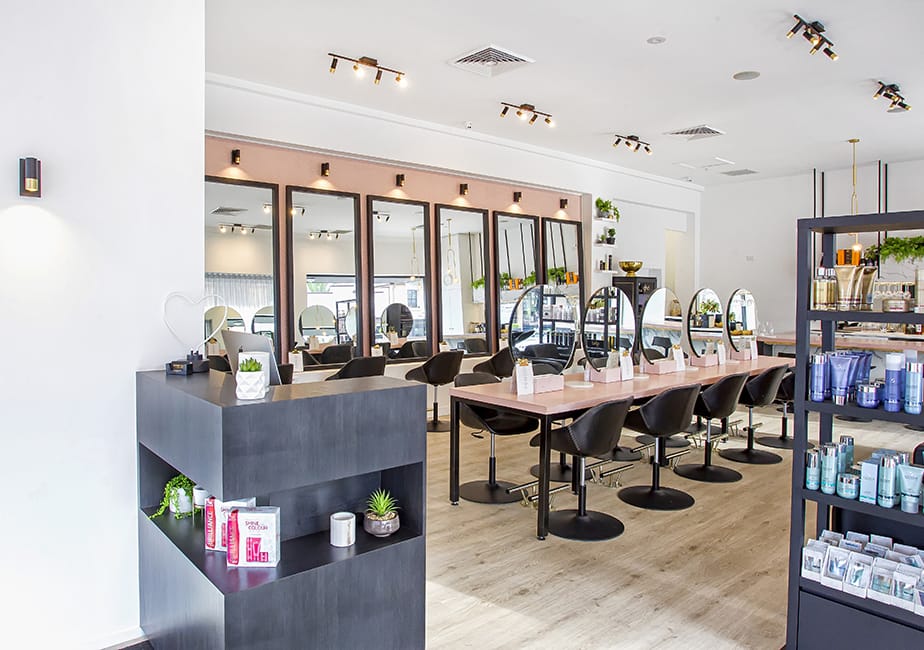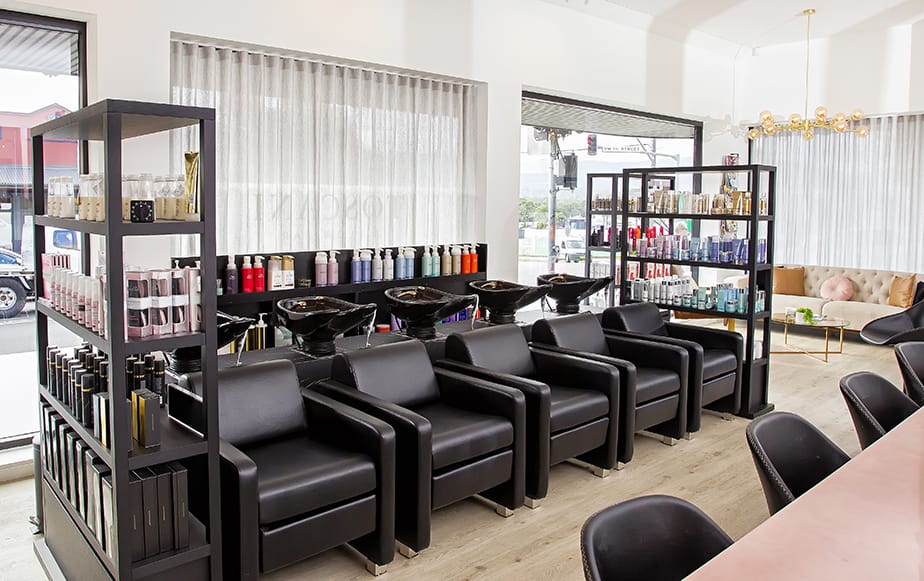 Brought to life by Birdblack Design, the salon space is modern in appearance with elements of black and brass throughout the hair salon interior.
The concept was to locate a cocktail bar at the rear of the building so that when entering through the front door your eye would be drawn through the space towards the bar.  Clients are able to have sip on a martini or bubbles, graze on cheese platters all while getting a blow wave.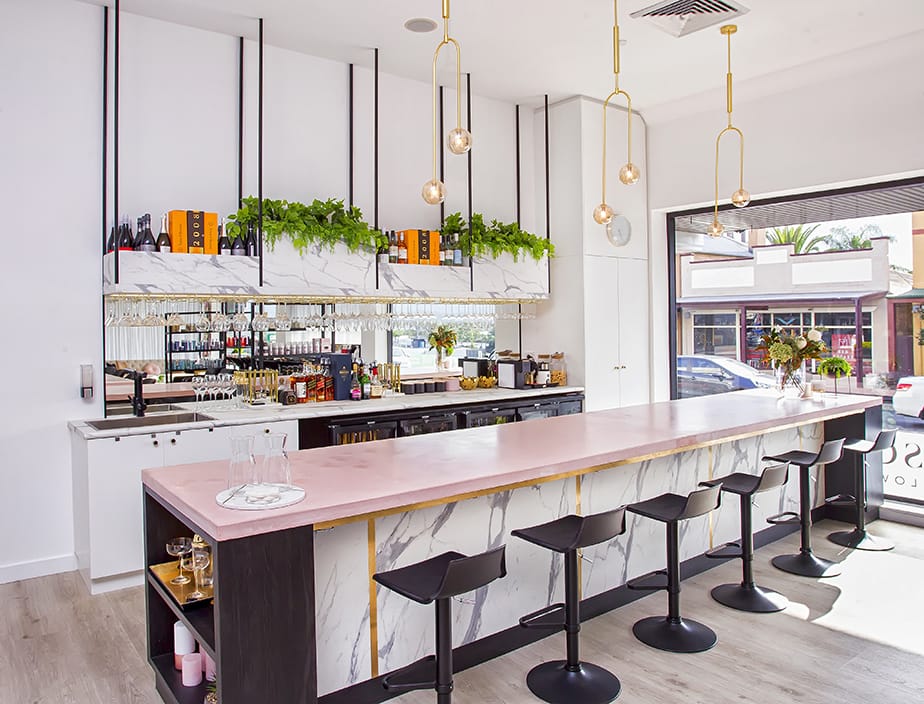 The showcase within the salon is the Blow Bar, with it's custom-made, pastel pink concrete benchtop. The remaining finishes were selected with budget in mind. All of the joinery is custom made using a combination of man-made timbers and marble look laminates to give an appeal of a luxurious finish. The black and brass highlights are incorporated into all of the light fittings, details in the joinery and the salon furniture & equipment.
"It needed to have a high-end aesthetic but without the cost factor associated"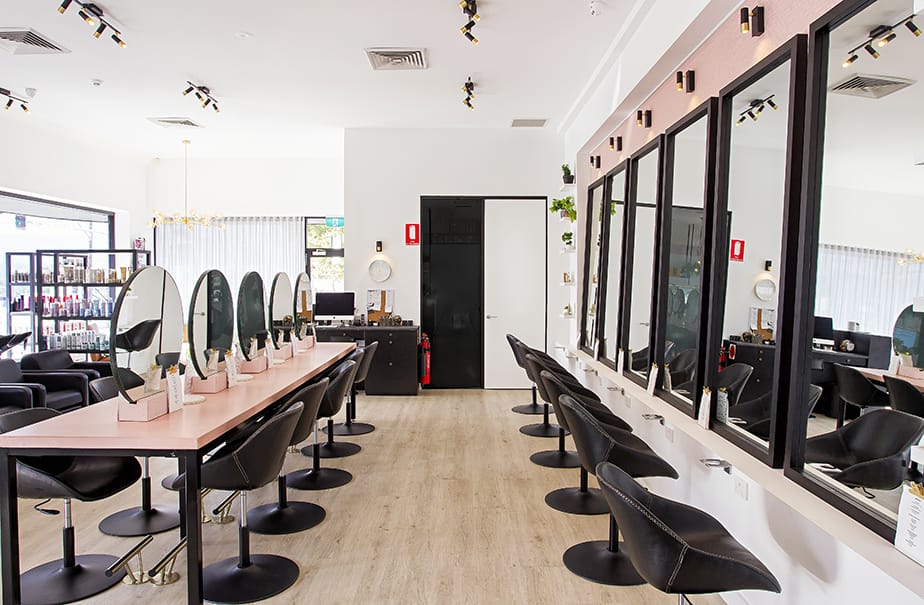 Comfortel's Hannah Salon Chairs and Blast Brass Salon Footrests are combined with black slimline wall leaning mirrors on a ledge to create a bench while millennial pink wallpaper is the perfect back drop.
 "It was easy to select from the new ranges that Comfortel provided. They had a great variation of chairs and accessories that complement the overall style and theme we had designed. And it was even better that they now offered modern finishes like matte black and brass, we were able to utilise a combination of both in our fit out."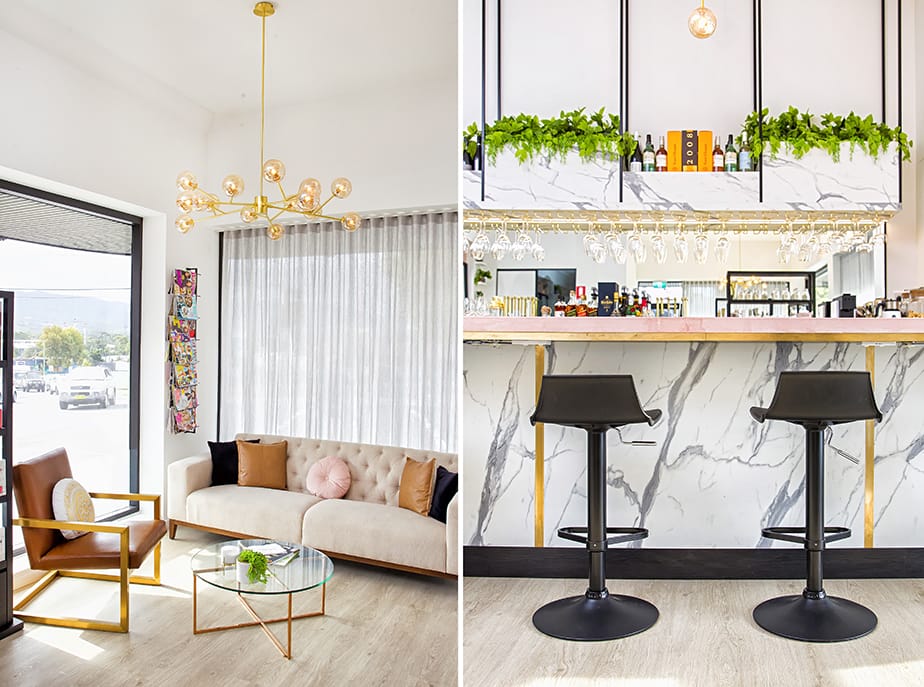 Thinking about adding a bar or food to your salon:
What you need to know…
Always check your local Liquor Licensing Act In most states of Australia & in New Zealand, low-risk businesses (like hair salons) allows alcohol to be served after a certain time to a certain value. Research these regulations.
If you decide to serve food, Food Regulations will need to be considered.
Have fun with the design, opt for high bar stools and really get inspired by hospitality interiors like cafes and bars.
Don't forget your core business! Make sure clients are comfortable and hair salon priorities are not left behind.
Remember the hair! We know hair can get everywhere – so consider placement and timing of food and drinks while catering to clients.
——-
Salon:  Toscani & Blow Bar,  101 Keira St, Wollongong NSW 2500
www. toscaniandblowbar.com.au  @toscaniandblowbar
Salon Owner: Dannielle Dickinson
Interior Design: Birdblack Design  @birdblackdesign
Builder: Souter Built
Salon Furniture: Comfortel Furniture
Photography: Hannah Ladic Photography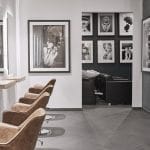 Beauty
Hairdressing
Salon Spaces