Maya Retail Shelves
Beige Powder Coated Retail Shelves
Sign up or login for Trade Price + Shop
Meet Maya, The Epitome of Modern Elegance.  Stepping into the spotlight, Maya Retail Storage Shelves are a testament to refined design and modern aesthetics. With a silky beige powder-coated finish on metal, they showcase the captivating allure of their arch curve design. The five-shelf structure not only exudes style but also promises to be a statement piece in any salon setting.
Chic Details of Maya:
Sleek metal, bathed in a silky beige powder-coated finish
Iconic arch curve design
Tall, five-shelf layout for an elongated visual appeal
dimensions & product details
Dimensions & Specifications
Beige Powder Coated Retail Shelves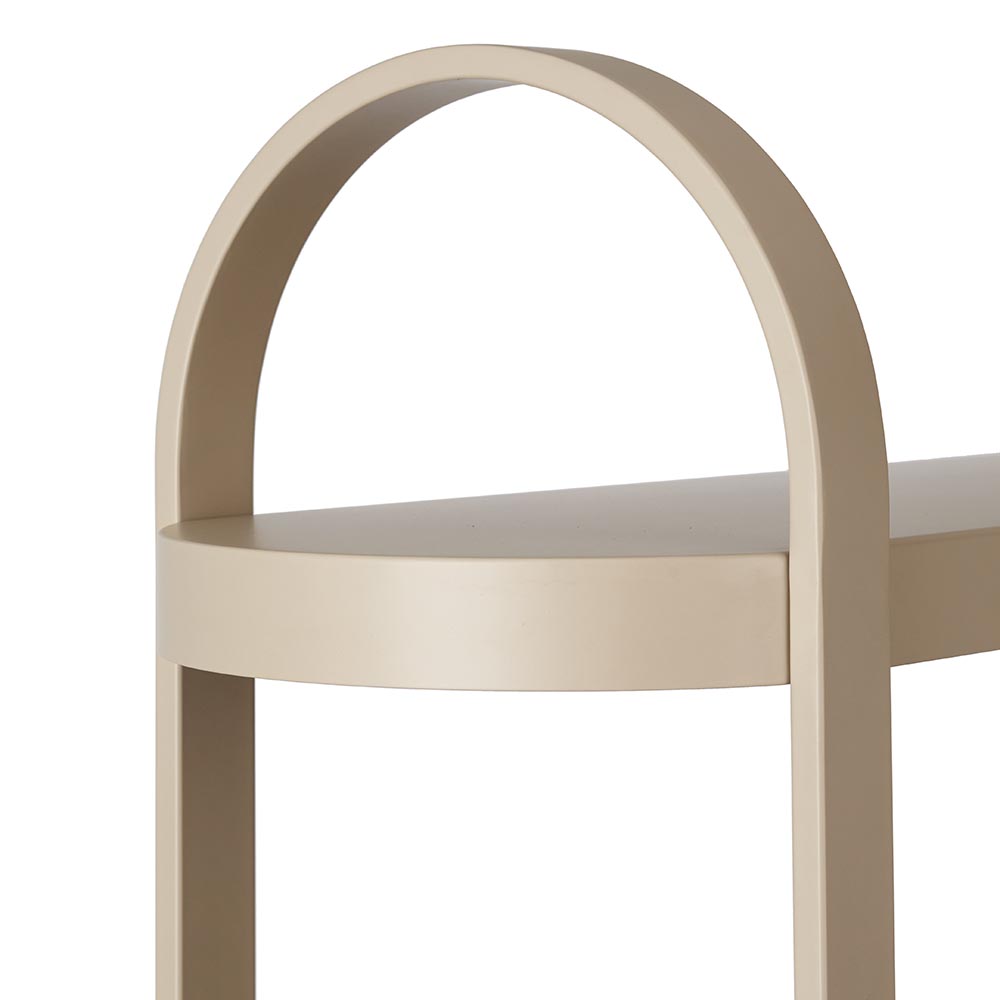 Embrace Your Salon Space with Maya
The subtle beige finish of the Maya Shelves makes them a versatile piece for any salon decor. Pair them with modern elements, let natural light play upon their curves, or stand them against a backdrop of lush textures. Maya promises to amplify the aesthetic appeal of both minimalist and opulent salon themes.
Optimise with Maya
Space-savvy and undeniably chic, the Maya Retail Storage Shelves are a blend of aesthetics and functionality. Their design ensures your products are displayed with an air of elegance, while the tall structure promises effective utilization of vertical space. Let Maya become the canvas for your salon's prized products.
Achieve the Ultimate Sophistication
To truly encapsulate the spirit of modern design, pair the Maya Retail Storage Shelves with another statement piece, like the Pebble Salon Mirror. Together, they craft a narrative of style, elegance, and contemporary allure.
Embrace Mayas features
Elegant Beige Metal Arch: Neutral beige finish blends seamlessly with various colour schemes, creating a warm and inviting atmosphere.
Five Powder Coated Metal Shelves: Perfect for showcasing haircare products, cosmetics, or accessories.
Versatile Placement: Placed against a wall for a streamlined look or use as a freestanding unit to create flexible display arrangements matching your salon's layout.
Easy Maintenance: Simply wipe them down with a damp cloth to maintain a pristine and inviting display.
Stylish Functionality: Not just a shelving unit, Maya adds an artistic touch to your salon space. Enhances the overall ambiance and creates a memorable experience for your clients.

Need more Help?
Visit our Comfortel Product Help & Support Portal
Find answers to your questions about this product.
Get help, download installation manuals, find solutions and more.