Serena Styling Chair
Salon Hairdressing Chair
Sign up or login for Trade Price + Shop
Meet Serena, the true champion of salon chairs. She's a free spirit with a fierce commitment to standing out. With her powder-coated matte white finish, which is resistant to hair dye stains, combined with sand upholstery, she exudes a sophisticated and bold look. The unique design showcases contrasting elements of wire and tube, paying tribute to traditional chair forms while standing apart as a true champion in her own world.
Serena's frame boasts padded armrests and sand upholstery, combining comfort and style for an inviting and inspiring look. The open backrest of the Serena Salon Chair is as comfortable as it is stylish, providing the perfect place for your clients to relax while you unleash your creativity.
Customise the Look of your Salon Chair:
dimensions & product details
Dimensions & Specifications
UV stabilised, Cold crack protected, Fire retardant
White powder coated metal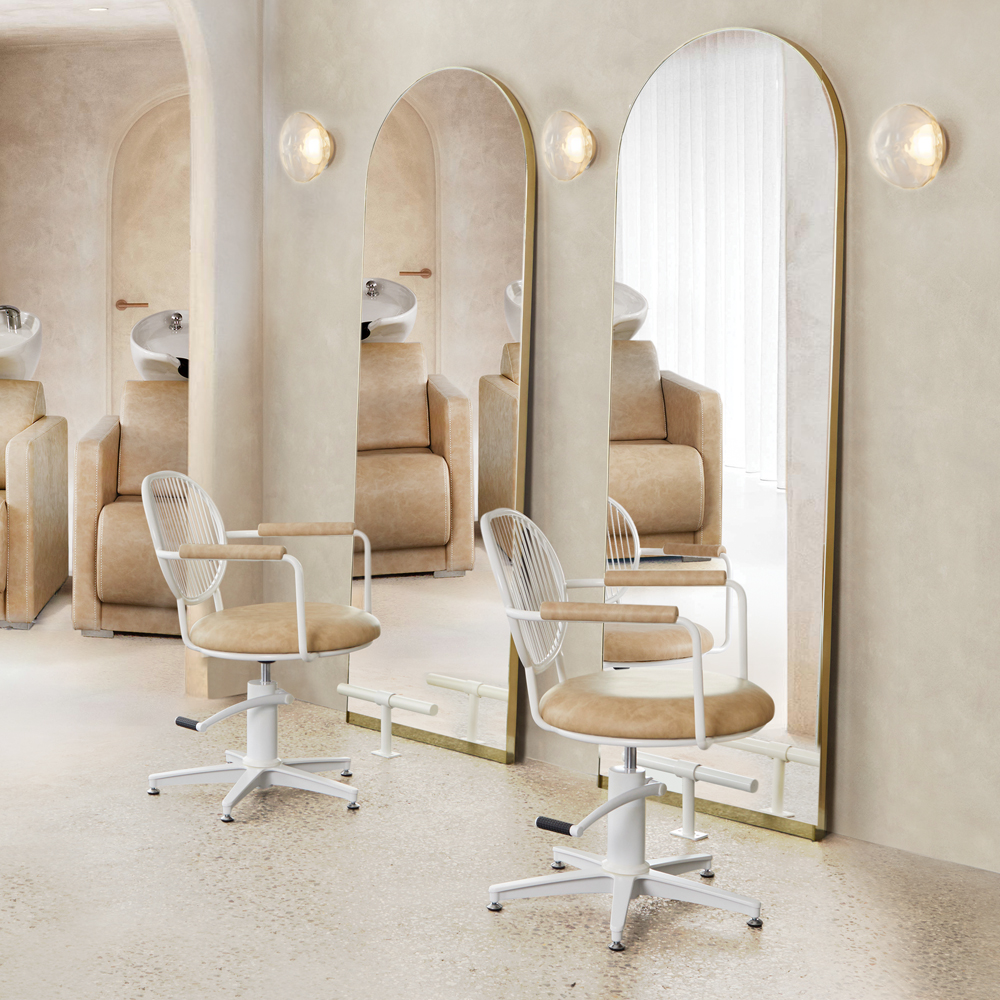 love. serena…
Serena's light and versatile aesthetic is ideal for those who crave a contemporary look with a touch of vintage charm. Serena's design is both bold and classic, with a distinctive, curvy frame that's sure to turn heads. With contrasting elements of wire and tube, Serena's one-of-a-kind look is perfect for those who like to stand out from the crowd.  Serena's open backrest and one-of-a-kind wire design make it a statement piece for any salon. Its light aesthetic and versatility add a touch of designer flair to your salon. So why settle for a standard salon chair when you can have a work of art with Serena?
features
· Professional hair salon styling chair
· UV stabilised, cold crack protected upholstery
· Smart design to stop hair getting caught in the chair and seams
· The adjustable seat height provides customisable comfort for both client and hairdresser
· The superior cushioning make it comfortable to sit in the chair for long periods of time
· Bases have been tested to hold up to 500kg
#instasalon
Latest on Instagram @comfortelfurniture