Santorini Retail Shelves
Salon Retail Shelves in Gloss White and Natural Ash Timber
Sign up or login for Trade Price + Shop
Escape to the Mediterranean with our Santorini Shelves.  With its silver stone look textured finish and wavy design, these shelves are inspired by the tranquil beauty of the European coastline.
Crafted with a unique wavy design that mimics the gentle waves of the sea, and finished with a luxurious stucco look textured finish, these retail shelves are a thing of beauty.  The textured finish mimics the sun-kissed cliffs of Santorini and adds depth and dimension to your salon décor, while the wavy design creates a sense of movement and fluidity. Perfect for showcasing your favorite décor pieces or organizing your retail essentials.
Imagine your clients admiring the elegance of these shelves as they relax in their sun bed, aka… salon chair 😜
dimensions & product details
Dimensions & Specifications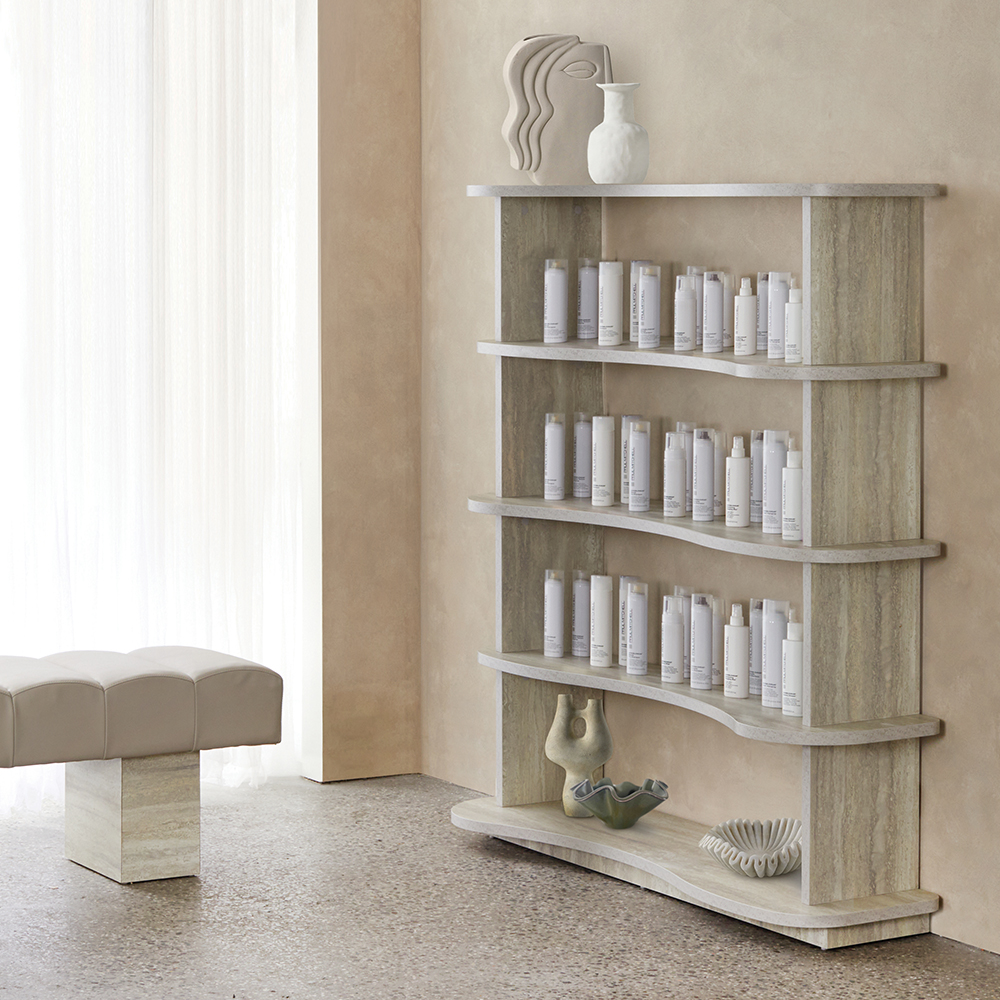 wavy and fluid… for the lovers of curves.
Get swept away by the beauty of curves with our Santorini Shelves. Designed with wavy lines and fluid curves in mind, these shelves are the perfect addition to soften sharp lines and add character to your salon.
Not only do they elevate your salon's interior design, but they also serve as a functional solution to organize your products and showcase your offerings. Keep your salon looking neat and tidy with a touch of sophistication and style.
Stucco Look Textured Finish
The Santorini Shelves sport a stucco look textured finish, lending an elegant, rustic appeal to your salon space.
Wavy and Fluid Design
With their wavy lines and fluid curves, these shelves break away from conventional design norms, softening sharp lines and injecting character into your salon.
Functional Elegance
Not just aesthetically pleasing, the Santorini Shelves offer a practical solution for organizing your products and showcasing your offerings in an attractive manner.
Modern Muse
A blend of contemporary design with fluid elements, the Santorini Shelves are an ideal choice for those seeking to bring a touch of modern artistry into their salon space.

Need more Help?
Visit our Comfortel Product Help & Support Portal
Find answers to your questions about this product.
Get help, download installation manuals, find solutions and more.