Hair Salon Trolleys
Hairdressing Trolleys for Hair Salons offer the perfect mobile storage solution to work or store your salon supplies.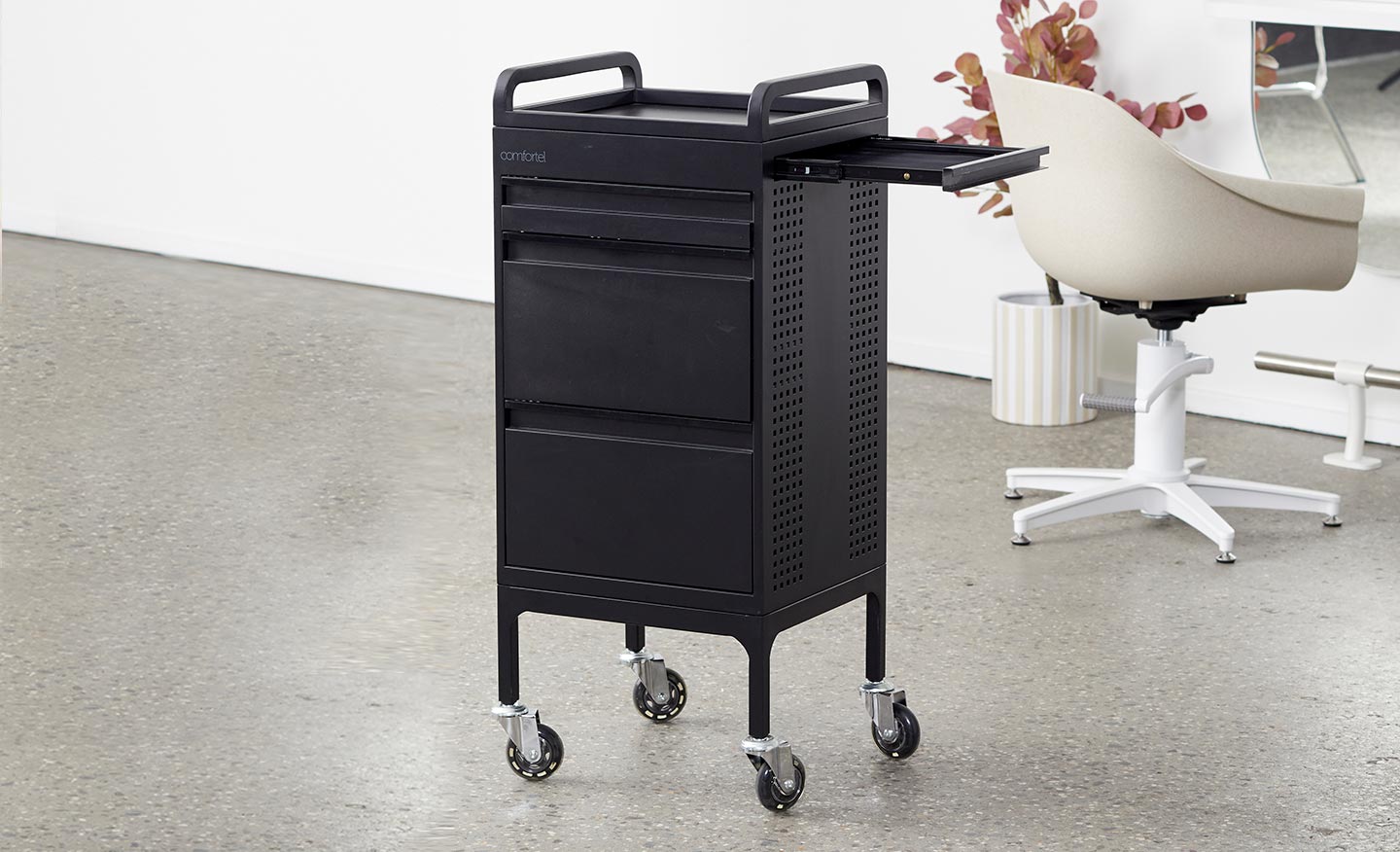 Hairdressing Trolleys
Comfortel's uniquely designed hairdressing salon trolleys are perfect for storage and for keeping your salon looking clean and well organised. Many of our hair salon trolleys are actually lockable hairdressing trolleys which feature lockable drawers to keep your hairdressing & salon supplies safe, and all are easy to clean and built tough to last.
Portable Hairdressing Trolley That Offer Practical Storage Solution For Your Salon
Choose from our range of metal hairdressing trolleys with 2, 3, 4 and 5 drawers in a range of colours and finishes, some with additional shelving, drawers and removable bottle and tint bowl holders. A hair salon trolley should not only be mobile and functional, it should fit in with your salon's décor as well. Our signature hair repellent wheels make them the ultimate portable hairdressing trolley, moving with ease. Our portable salon trolleys tick all the right boxes, providing convenient hair equipment storage where you need it most and stylish design features to complement any modern salon environment.
Why Choose Comfortel As Your Hairdressing Trolley Supplier?
Comfortel is one of New Zealands largest suppliers of hair and beauty salon furniture and equipment, and our wide range of products, including hairdressing trolleys have been carefully selected to provide for the particular needs of salon owners, hairdressers and beauticians. While our salon trolley carts are used by many of the industry's leading salons, our sights are always set on catering for businesses both large and small, and we are committed to designing and supplying exceptional products that allow our clients to explore their creativity. After more than 20 years in the hair and beauty industry, we are now the go-to source for most salon essentials.
Order Your Hairdressing Trolley Today!
Feel free to browse our excellent range of professional hairdressing salon trolleys and, if you'd like to purchase one online, simply register with us for an account today. You can also call or drop into one of our showrooms, and shop in-store in our showrooms across Australia. We dispatch within 24-hours for most in-stock items, so contact us today and upgrade your salon space with our salon trolleys & beauty trolleys to add that Comfortel touch of style and comfort.