A Minimalist Sanctuary: JC Body Boutique
Hairdressing
Salon Spaces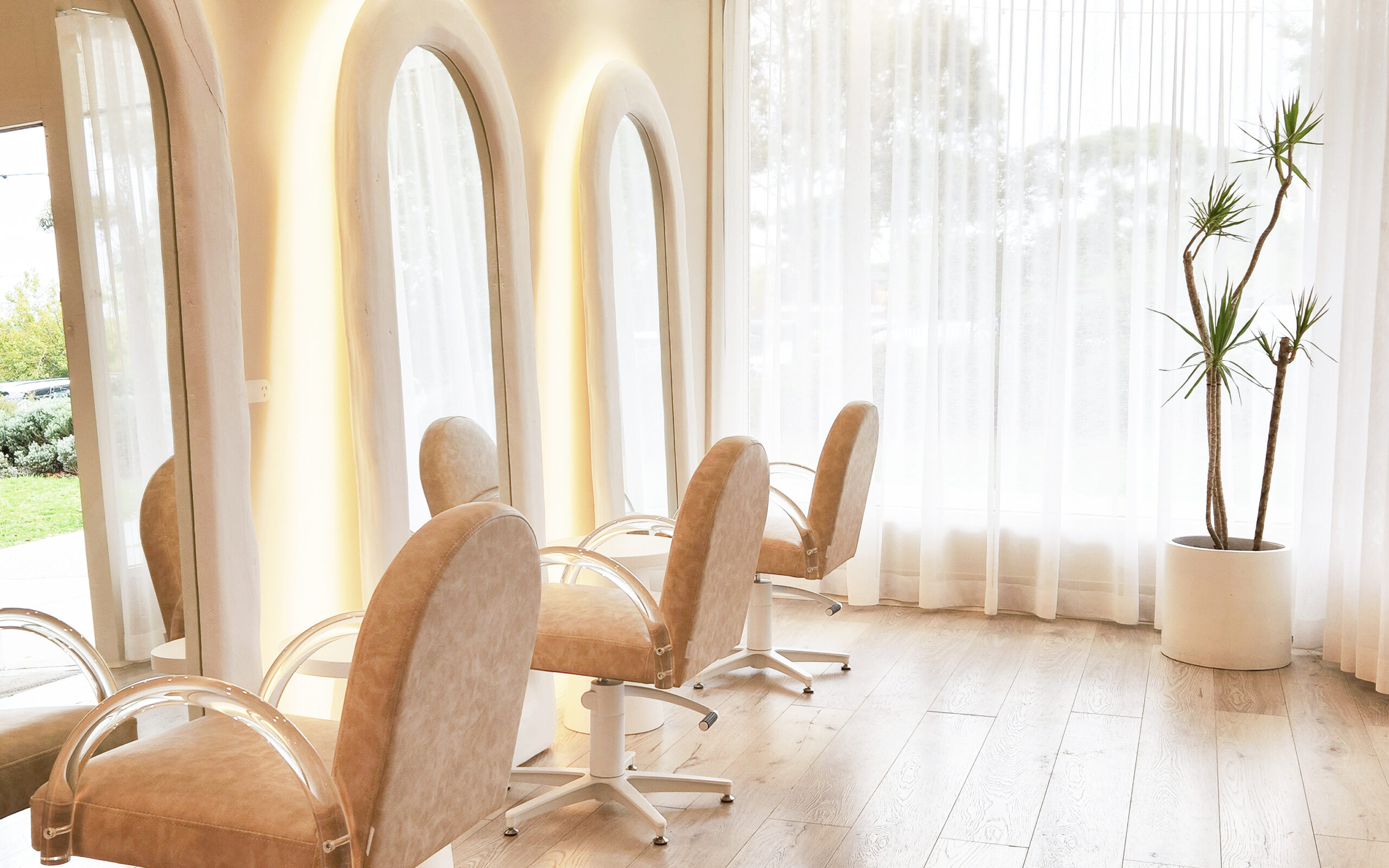 A Minimalist Sanctuary for Beauty Enthusiasts – Introducing JC Body Boutique
Located in the eastern suburbs of Melbourne, JC Body Boutique is a luxurious, all-in-one beauty salon that offers an unforgettable experience for its discerning clientele.
Designed by Shay Conway Interior Design, the salon embodies a minimalist aesthetic, expertly blending simplicity with a variety of textures and materials to create a soothing and visually appealing space.
Creating an Inviting Space with Shay Conway Interior Design
The salon's minimalist design focuses on creating a calming environment where clients can unwind and indulge in an array of beauty treatments.
While the colour palette of the salon is clean and simple, it's the walls and ceiling that truly make a statement.
Originally white, the warm neutral colour chosen by Shay Conway has transformed the space, creating a bold yet unobtrusive backdrop for the salon's beauty treatments.

Salon Furniture and Decor: Comfortel's Sand Salon Furniture
The minimalist vision of JC Body Boutique was brought to life with Comfortel's sandy beige salon furniture pieces.

Comfortel's Archie Sand Salon Chair and Club Sand Wash Lounge were the perfect choices to enhance the salon's aesthetics, offering both style and functionality. With a versatile range of options, Comfortel has made furnishing the salon an effortless experience.

How to Get the Look: Minimalist Sanctuary
Stick to a clean and simple colour palette: Choose neutral and warm colors for the walls and ceiling, creating a calming environment that feels welcoming and unobtrusive.

Combine textures and materials: Incorporate various materials such as wood, metal, and fabric to create visual layers and add depth to the minimalist design.

Opt for functional and stylish furniture: Select pieces like Comfortel's Archie Sand Salon Chair and Club Sand Washlounge that complement the minimalist aesthetic while providing comfort and functionality.

Prioritize lighting: Make use of natural light and carefully placed artificial lighting to create a bright and inviting space.

Keep it clutter-free: Maintain a clean and organized environment by providing adequate storage solutions and keeping surfaces free of unnecessary items.

Work with skilled professionals: Collaborate with experts in interior design, architecture, and other relevant fields to create a cohesive and well-executed design.

Get the look with Comfortel Salon Furniture

Salon: JC Body Boutique
Shop 49/1880 Ferntree Gully Road, Ferntree Gully, VIC 3156 @jc.bodyboutique
Interior Designer:  Shay Conway
Salon Furniture: Comfortel Furniture
Electrical: Ido Electrical @idoelectrical
Carpentry: SH Carpentry @sh.carpentry & Lachy Downes @lachydownes
Custom Arched Cabinetry: Element Installs @elementinstalls
Tiling: BNC Tiling @bnc_tiling
Interior Signage: Rust Cut @rustcut